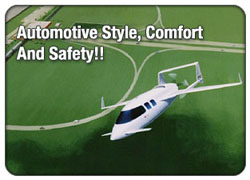 The Michigan Small Aircraft Transportation System (MI SATS) is a government-industry joint venture designed to develop, evaluate and transfer select commercial and automotive technology to General Aviation applications. MI SATS is a nonprofit company with specific technical and market data objectives:
Market
To assist participating companies to be first-lo-market with new products for General Aviation.

To generate public interest for General Aviation air travel
Product
To develop technology for safe, deficiently and economical General Aviation air travel.

To demonstrate that automotive technology can be successfully transferred to General Aviation.

To demonstrate that non-pilots can safely operate a SATS aircraft in nearly all operating conditions with a confidence similar to operating an automobile.
Infrastructure
To demonstrate that SATS airport infrastructure is an affordable option for national transportation system investments.

To develop and evaluate intermodal transportation business models.

To assist a national transition to an improved air transportation system.
Public Advocacy